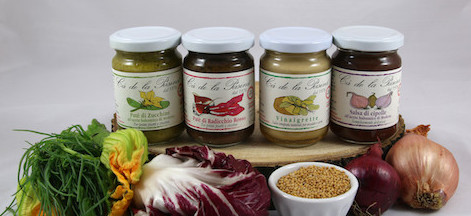 The sauce comes from the Latin "salus" (salty). It was meant to enrich the taste of the dish they match. Therefore, the wonderful world of sauces has always exalted the tasting, enhancing the organoleptic characteristics of the dishes.
The range of sauces of Ca' de La Pasina is as broad as greedy: sauces for pasta and croutons; sauces to accompany meat, fish, shellfish and vegetables (to be served raw, boiled, baked or grilled). Then the mayonnaise, mustards and pates. Finally exquisite preserved vegetables are perfect appetizers or side dishes.
No thickener, gelling agent or acidifying agent is added, and our products are genuine and made just as you would in your own home, in your kitchen. We get the conservation wisely using salt, sugar, lemon juice and vinegar. And remember that the sauce is the queen of the table!