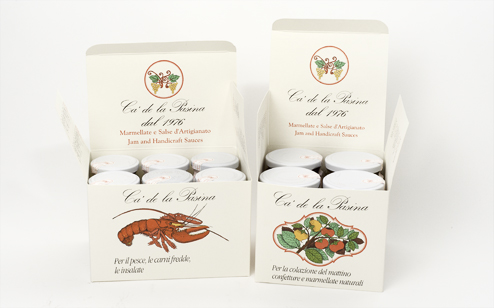 "AUTHOR  BOXES" (Cases for gifts)
Wonderful tools to present themselves with class and elegance. They're made of cardboard fine "Fedrigoni" lithographed in color with drawings of the engraver Gianni Gallo.
Boxes may contain no.4 vessels for the "Sweet" line (Jams and Marmalades), and no. 6 vessels for the "Salty" line (Mayonnaise, Pate, Mustards, Sauces …).
Inside the boxes there are dividers that make the packaging even more elegant and accessory of prestige. We are able to provide customers with the "Cases" for both Jams and Sauces already prepared in some versions, as well to provide empty containers so that customers may customize to their liking the "Author box".
Ca' de la Pasina since 1976 – Jams and sauces crafts